What is CART Captioning:
Definition: CART is Communication Access Real-time Translation.
(CART) converts the spoken word into instant text by court reporters.
Court reporting service is generally for hard of hearing persons. American Sign Language. (ASL) that need spoken words translated into printed English in a real-time format. Court reporting steno software records in real-time with a
USB court reporter microphone
.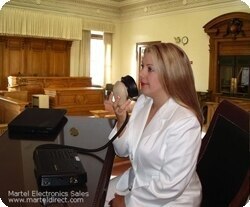 Court reporting CART practitioners work in courtrooms.
Real-time text is state-of-the-art display devices.
Display options offer the ultimate in flexibility, from a laptop. Single students to a large LED display sign for thousands at once.
Most of the court reporters are using a back up digital recorder
from Martel Electronics.
New Professional opportunities for Court Reporters
CART Captioning is an exciting field for court reporters. Court reporters who can also provide the capability from an off-site location.
CART practitioners work from home. They receive their audio feed from many places. VOIP (Voice Over Internet Protocol) resources and telephone lines. Term "Remote CART."
New information that every Court Reporter needs to know
The Americans with Disabilities Act (ADA). Mandates the provision of reasonable accommodations for employees and "auxiliary aids and services".
Ensuring effective communication with people who are deaf or hard of hearing.
The U.S. Department of Justice regulations for ADA Title II.
(state and local governments) and ADA Title III.
(public accommodations) define the term "auxiliary aids and services"
Recent Posts
5 Things you should know about going to digital dictation machine equipment: All hand held dictatio …

Martel Electronics Sales is Headquarters is in Yorba Linda Here at Martel, we've been wan …

Does the Record speak for itself? You've got to get up to Judges Brown's courtroom and take you …