Free Fast Shipping + Free Award Winning Expert PC & Telephone Support + 65 Years in Business + 30 Day Money Back Guarantee + Over 1 Million Customers + Quality Products + 99% of all Orders Ship Same Day + Almost All Court Reporters buy from Martel!
The Best Dragon Lawyer Voice Recognition Dictation Recorder Package for Lawyers
SKU:

1912

UPC:

780420131156

MPN:

1912

Condition:

New

Availability:

IN-STOCK

Shipping:

Calculated at Checkout
Description
The Best Dragon Voice Recognition Dictation Equipment Package for Lawyers is the only one in the world that incorporates a professional hand held dictation recorder that works just like a tape recorder.
The lawyer will see how familiar its use is. Now we full install and support from Martel. It uses a slide control on the side of the dictation recorder that allows them to rewind and make corrections. When the legal dictation is done the lawyer takes the recorder and places it into a docking station, which automatically downloads the file off the recorder, and the secretary opens up dragon voice recognition and starts to type up the document for them. The voice recognition software, runs in the background and the recorder can be taken off the docking station almost immediately.
The dragon transcribing software has recently been upgraded so the Lawyer can take full control over almost every feature of the computer from his voice.
This dictation recorder bundle is meant for the small or medium law firms. One of the most frustrating parts of being a lawyer is having to deal with turning voice into documents. Luckily Martel has a great solution for lawyers that won't break the bank. This voice recognition package comes with support for the year to come. Even if you are a lawyer on the go you can email the files back to the office and Dragon will handle the transcribing.
Check out the organizational flow chart below describing the use of Dragon Naturally Speaking with a digital voice recorder or smartphone in your office.
Voice recognition for lawyers saves time, grants more control over legal dictation and increases billable hours for your law firm.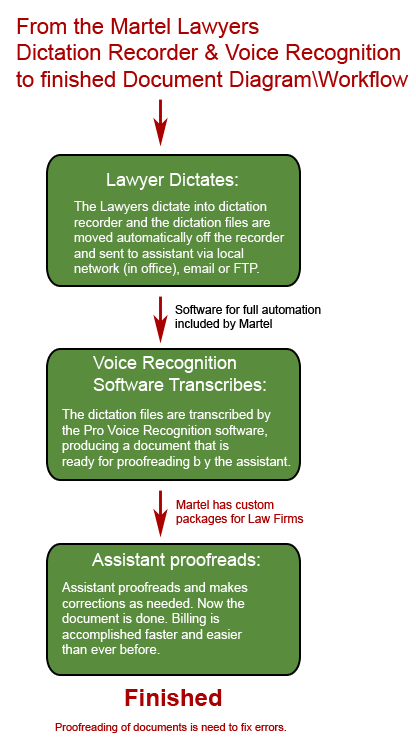 Dragon Naturally Speaking lets lawyers & legal professionals make documents, create e-mail, and completely control their computer by voice using voice recognition technology made specifically for law offices. Imagine working three times faster than normal on your computer, and typing five times faster than normal with 99% accuracy.
If you're working in a corporate legal department or law firm, Dragon Naturally Speaking reduces your transcription costs to next to nothing, saving money in staffing, plus time. Lawyers can finally get their dictation transcribed and billed almost instantly.
Law practices have come to the realization old style tape recorders and transcribers are outdated and are nearing the end of their life span. Lawyers are in a period transition currently. Many legal professionals are working from home. Firms are expanding exponentially, but support staff is being reduced. This is the fix, save on transcription costs. Deploying a Dragon Naturally Speaking and digital voice dictation equipment solution will streamline your document production and profitability.
Speech recognition and digital voice dictation are two technologies which create a synergy, eliminating waste while quadrupling your efficiency. Walk around and dictate onto the voice recorder just like you're accustomed to, then drop it into its cradle and let Dragon Naturally Speaking turn your words into a professionally transcribed document.
The document you just automatically created is then sent via email, FTP or LAN to your secretary for proofreading and billing. Speed up your day with the best digital recorder for dragon naturally speaking, and increase your billing.
Voice Recognition software & digital dictation recorders and transcribers for independent lawyers, small law offices, and large legal multi country organizations.
View All
Close
Warranty Information
Professional Lawyers Dictation Recorder
Dragon Professional 15 with Support Software
USB Docking Cradle
8GB SDHC memory Card
Martel Dictation Management Software
Micro-USB cable
Carry Case
User manual
View All
Close
10 Reviews
Digital dictation recorder is ideal for dictating correspondence

I dictate allot of reports, observations, and statistics in the field where I survey buildings. I wanted a dictation recorder that allowed me to email from the field. I found the inexpensive dictation equipment lagging in one certain feature the ability to append. The true definition is that I can rewind to a certain point in the dictation and insert a sentence to make the entire dictation report more accurate. So the advice I give you is you need the following features if you are a lawyer, doctors or business professional who dictates more than 1 hour per day. Feature: Rewind = Cue and Review Append = insert dictation into a file anywhere at anytime. Erase = well self evident but ok take out a word or entire sentence that is a mistake in the dictation. Authors = Give a dictation file a authors name such as John, Tim, or Joe. So the files have a owner when they are emailed or drop-boxed to the transcriber. Automatic emailing = This is a must have. Dock the recorder and it automatically send the dictation file via email to a predestined email address each time. That is the full list that you will need. I know I sound like a Techie but I am a nerd and love this type of gadgets. The last thing is who would need such a robust digital dictation recorder? See this full list below: 1. Scientist 2. Professor 3. Researcher 4. Doctor 5. Lawyer 6. Paralegal 7. judge 8. A masters student 9. FBI agent 10. insurance claim officer 11. Project Manager 12. Priest or Rabbi 13. Highly trained Consultant 14. CSI detective 15. Parole Officer 16. Department of justice agent 17. Treasury Agent 18. Book Author 19. Journalist 20. Inventor 21. Congressman 22. State fraud investigator 23. Software Engineer Well you will not find a more complete list than the one I have above for dictation recorder users.

A special dictation recorder dragon equipment just made for lawyers, I needed that

I wanted to buy a dragon dictation recorder for my lawyers. I have 3 of them in different locations around Los angeles. The problem is that they all wanted me to type up the work. Well we know thats wasn't going to happen quickly. So I bought 3 of the Best Dragon Lawyer Voice Recognition Dictation Recorder Package for Lawyers equipment. I have achieved around over 95% accuracy with the dictation equipment. The best part is that they are doing the work automatically and I am just correcting and proof reading the legal documents. I researched around the web and I couldn't find any other lawyers package that did what this equipment could do. Thanks for the help, Martel.

Efficiently streamline our lawyers dictation transcribing system with a major upgrade dragon special edition recorder

Siri and voice apps on the phone just dont cut it. I need to be able to control outlook and word programs and I just cant do that with a app on a phone. I ordered the lawyers best dictation recorder package and right out of the box without little testing I was getting over 90% accuracy. Also I wasn't tied to a pc anymore at my law office, I could roam like I use to with my olympus tape recorder. I am dictating this lawyers review from my Martel dragon dictation recorder. Voice recognition has really caught up since I graduated from law school. I can dictate and control Microsoft word, chrome, excel and my favorite powerpoint. Heres the tip you all having been waiting for, the dragon telephone support to get it all setup and rocking you will need from Martel. I called and they set me up in about 15 minutes of tech support. Wow a internet company that has a telephone number and help. Great Lawyers package.

Dragon dictation recorder my side kick

Dragon dictation recorder package has been a great fit for my lawyers busy schedule. I pushed it on him but in the end he loves the recorder that can rewind. He docks the recorder 2 times a day and files files are opened by dragon voice recognition and transcribed. By the time I proof read the letters they are almost 90% finished. Huge time saver for me as a lawyers secretary in a busy law office. The best dragon recorder came with everything we need to get rolling plus telephone support, vital. I would recommend Martel to every lawyer in the country but secretly tell secretaries its really for them.

weird but true the best dragon voice recognition voice recorder is a special package

If you are seeking a dragon compatible digital voice recorder and you have a lawyer who you work for you need this package. The bundle starters dictation kit for lawyers is complete dragon compatible digital voice recorder. It has the downloading digital voice recorder with dragon naturally speaking software. The best digital recorder for dragon naturally speaking lawyers edition legal is included. Once we received the kit we installed the special networking software and its was up and running the sony digital recorder with dragon naturally speaking legal lawyers 12.5 edition. So if you work for a inpatient law office with many lawyers this is best speech-to-text recorders kit. You cant find this same kit anywhere except here take if from me I searched google.

Attorney\lawyer at large using the Dragon Dictation recorder like a top gun fighter pilot

Its sounds funny but over the last year I have so fined tuned the dictation recorder and the dragon lawyer pro edition so well I am getting way over 98% accuracy. Sometimes I feel so good I am trying to get 100% over the next couple of months. I should be nicknamed the fire law dragon. I have a warning for you though if you are thinking about going cheap it will not help you with the dragon the better lawyers dictation recorder you get the better the microphone on the dictation equipment is the higher recognition you will get. So go on streamline the legal process and get more billing done. Have a martini and let the best dragon lawyer dictation recorder do all the work for you.

dragon voice recognition for attorneys and judges Specialized Voice Recogntion Pro Legal

For law firms where attorneys have their secretaries type their documents, Martel introduced a new speech recognition solution with a handheld digital dictation recorder/machine. The Lawyers Legal Pro software voice recognition vocabularies for the legal industry. The software is able to create documents. Its been a huge help with our streaming out of documents. We now share the voice files between law offices in difference locations around the world. This all the dictation equipment and software to do the work and free up my lawyers.

Dragon voice recognition special lawyers dictation equipment

This dragon legal dictation equipment is made for lawyers who want to use a digital dictation recorder and later download it into dragon voice recognition. There are allot of advantages to the lawyer. He can dictate a brief on the fly and not worry about speaking correctly into a computer. The benefits can be huge for the law firm. The dictation files are moved effortlessly into the transcriptionist server and the files are started by the voice recognition software so by the time the secretary receives the dictation she just needs to correctly some of it. Its a huge jump forward in technology and law firms need to get this dictation equipment.

Dragon lawyer voice recognition dictation equipment system

Its been always our dream to combine speech recognition and digital voice dictation recorders at our legal office. The analogue dictation and transcription systems have become increasingly broken over the years and the cost were sky rocketing to fix them. We found the legal dragon voice recognition had a 99% accuracy. This allowed us to reduce our transcription cost and save time. The concept of dictating into a dictation recorder and downloading it into a computer then allowing the voice recognition software to do the work appealed to us. The cost of the dragon lawyer perfect kit was easily covered the first week in quicker billing hour and productivity.

I am glad to be the first lawyer to review the BEST dragon dictation recorder equipment

I had been using dragon voice recognition at my firm for many years but it wasn't fun. I was tied to the desk all the time with the pc version. When I discovered this pro dictation recorder with automatic dragon activation and transcription. Now I am mobile with the recorder, when I get back to the office I just drop it into the cradle and it start the dragon without me doing anything. The highlights of this technology for lawyers is tremendous. Faster turn around of documents, easier billing and less time typing. I bought a second cradle for my yacht and the files are emailed from my boat to the office automatically now thats 21st century technology. Writing briefs and client information is done on the fly now with this recorder.
View All
Close
Compatible Accessories
Compatible Accessories Below
#1 Source for Government
We are the Worlds experts in Meeting Recorders, Dictation Machine Equipment, Police Dash Cameras & More! Over 1 million Customers & 63 years in business sets us apart. Almost every Federal, State, County, City Government agencies buy from Martel. Almost all Lawyers and legal firms buy their dictation machines from us.
Gov Written Quotes
Written Quotes
Get a Quote
If you would like a quote, please fill out the below form. If you are looking for something that you do not find on the website feel free to use this form. We are always trying to provide a better experience for our customers. Government agencies can also use this form.